Thanks to the support and attendance of worldwide insiders, WBE 2023 has concluded its biggest edition in its 8-year history. We are writing to share with you its successful staging and below is a summary of the event.
Overview of WBE 2023
Organized by Guangzhou Innovation Exhibition Co., Ltd, the 8th World Battery & Energy Storage Industry Expo (WBE 2023) was successfully held this August 8th-10th at Area A, China Import and Export Fair Complex, Guangzhou.
Spanning over 100,000 sq.m, the show occupied a total of 8 exhibition halls, setting up 3957 booths, almost double from last year. 1205 exhibiting companies joined the show from the fields of battery, energy storage and hydrogen energy. The number of battery cells, packs and energy storage solutions exhibitors amounted to 476.
The bustling three days counted 137,500 visits in total, all trade visitors from sectors like battery and energy storage, new energy vehicles, low-speed electric vehicles, consumer electronics, electric power, solar energy, communication, big data, infrastructure, smart terminals, and so forth.
Fact Sheet of WBE 2023
Date
August 8th-10th, 2023
Venue
China Import & Export Fair Complex, Guangzhou
Show Floor
100,000 sq.m

(8 Exhibition Halls)

Booths
3957
Exhibitors
1205 Exhibiting Companies

(Including 476 Cells, PACK & Energy Storage Exhibitors)

Total Visits
137,500
Overseas Visitors
8731 Visits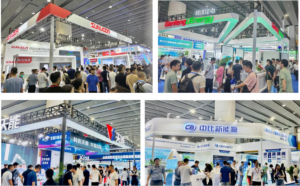 Partial Feature Exhibitors by Sector
Batteries
BYD
Tianneng Group
Sunwoda
Farasis Energy
Ganfeng Lithium
East Group
Do-Fluoride
CBAK
WeLion
HiNa Battery
LEOCH
Haidi Energy
Sinowatt
LongTTech
Roofer Group
Dejin
Poweroak
Etaker
Didu
Huichuang
Battery Materials
Semcorp
BTR
Wedafr
Taihe
Evopower
Epuno
Kanhoo
Polyentech
Xingrong
Dianchi Qianli
JCC Copper Foil
Tayho
Wave Vector
TRUMPS
Chuanglu
Battery Equipment
Harmontronics
Han's
Hymson
CENJE
Zhongji
Dali
Zeyuan
Foryou
Royma Tech
Yixinfeng
Zhongmai
Shengchuang
Bluesea
BENICE
HongYu
Yishengda
Xingneng
Xingnuo
Wanshsin
…
Lithium Battery Protection Boards, BMS and Chips
Ronda
Jiabaida
Smart Lithium
Litongwei
Chaosiwei
Qualtech
D-POWERCORE
Smart Electronics
Mingtang
BestWey
Baimingcheng
Jinlipeng
Jinhong
Ginkgo
SmarTEC
HUATECH
HT Semiconductor
Ling Silicon
…
Battery Charging and Swapping
Xiliulou
Rgo  Technology
 Yunku
Bitean
Zhixun
Danneng
Zhonghui
Dochion
Yunhe
Locoway
Dichuan
Longlei
GSG NEW ENERGY
Domchar
Esino
Hydrogen Energy
Sinosynergy
SinoHyKey
Sino-Science Hydrogen
Center Power
Hynovation
Feichi Motor
Pearl Hydrogen
 HITS Hydrogen
Youon
TOYOTA
To High Hydrogen
EHang
ELION
Hydrogen Aviation
Wopin
Infore Enviro
Guangdong Hydrogen Technology
WiseDrive
…
Three Major Industry Conferences
China Battery Industry (Guangzhou) Summit, China Energy Storage Industry Ecology Conference and World Hydrogen Energy & Fuel Cell Industry Conference constituted the biggest highlight of the 2023 trade show, gathering industry experts, business leaders and policy makers to promote fresh thinking, share latest innovations and explore a sustainable future for the industry.
World Battery Night
Over 1000 insiders at home and abroad attended this fabulous event, including government officials, association delegates, c-suite leaders, buyer representatives, etc. A series of prestigious awards were presented, acknowledging enterprises with outstanding contributions in batteries, energy storage, battery equipment, battery materials, technological innovation, etc.
Two-day Factory Tour Program
This Aug. 10th-11th, our first-ever two-day factory tour program saw a turnout of 78 visitors, all overseas senior executives, mainly from Sweden, Japan, Germany, the United States, Singapore, Canada, Austria, the United Kingdom, Turkey, Israel, South Korea, Russia, Portugal, Malaysia, Bangladesh, Africa, Egypt, Indonesia, India, Vietnam, etc. We paid visit to four of China's leading enterprises in Guangdong, which were Sunwoda, BYD, LongTTech and Great Power.
The 8th World Battery & Energy Storage Industry Expo (WBE 2023) has come to a resounding success. Look forward to seeing you next Aug. in Guangzhou!
For more details, please check it at http://en.battery-expo.com/